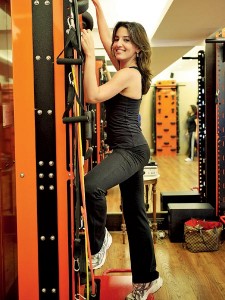 Try wall climbing, the latest way to be fit. It doesn't just give you taut muscles but strengthens your bones, preventing possible knee problems.
Climbing as a form of exercise is increasingly becoming popular among women. Losing weight and keeping fit aside, climbing helps women strengthen knee bones and tone calf and thigh muscles. Zareen Watson, who trains quite a few Bollywood stars, says, "It's a great way to build muscle and one can opt for a variety of workouts on the fit wall."
Health benefits 
Mickey Mehta, holistic health guru, says any climbing simulation can really toughen the lower body and the wall fits right into that mode. "As an exercise regime, it has multiple benefits. It trains you to be fit, builds endurance, concentration. For women, it's a great calorie burner, bringing different muscles into play, especially toning the leg muscles – hams, glutes and quadriceps." Since you have to pull your ab muscles in while climbing, it helps tone the stomach, one of the most stubborn areas where fat builds up."
Climbing is a good form of exercise for people who work long hours in front of a computer. It firms up the backbone and back muscles. A word of caution: While women aged 16 upwards can climb the wall, Mehta says it is wise to consult a doctor and obtain a fitness certificate before you go for it.
Our sincere thanks to idiva.com