Our sincere thanks to THE HINDU for the press release of NALS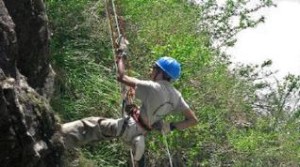 The National Adventure and Leadership School trained visually impaired Gopalkrishnan to trek to Beas Kund
I can't see, so I have no fear." These were the words of 24 year old Gopalakrishnan, who despite his visual impairment, trekked 62 kilometres up to Beas Kund, more than 3895 metres above sea level. Trained at the National Adventure and Leadership School (NALS), Coimbatore, Gopal performed this Himalayan feat to attract participants for the Sankara Beas Kund Trek (SBKT) programme. For every participant that enrols for the trek, NALS has promised to donate Rs. 3000 to Sankara eye care institutions, Sathy road.
Inspiring
Gopal, who was born with the impairment, had a corneal replacement as a child, but lost both eyes in accidents, before he was even 18 years old. "I wanted to prove that blind people can do anything they want to. They don't need to beg or do street performances to earn money. My trek to Beas glacier must inspire blind people to do regular jobs."
He went for the pilot trek, from June 7 to 16, with six children and a 65 year old lady (who incidentally dropped out after the third day, due to knee pain.)
"Everyone, except Gopal, lost something during the trek," says Lieutenant Seshadri Venkatesan, former naval officer and operations director of NALS. "He had a count of the items in his backpack, which he systematically unpacked and repacked, whenever we camped. Once, at night, he led two trekkers from the mess to the camp, as they didn't have torches," he adds.
"There was ice under the stones, which made them slip under our feet. I slipped, but held my balance," says Gopal, who is from Peelamedu. He adds that earlier he would be excluded from family functions, but now everyone respects him.
Up in the Himalayas, there is the "chill factor", explains Seshadri. A breeze can entirely absorb all the heat from our bodies. "But Gopal," he says, "had no fear, nor apprehensions."
He didn't let primal fear get the better of him, even during rappelling down a vertical slope and tyro line traversing (crossing a river, crawling on a rope.)
Gopal is now invited to give inspiration speeches in colleges. Seshadri says that many organisations are interested in hiring him. "What's remarkable is that he's so down to earth. He put us on a self discovery path. While we map with our eyes, he maps with his mind."
The SBKT happens from September 7 to October 20. Daily batches of 40 will leave for the five day trek from the base camp at Kulu Manali. Trekkers will be trained at Coimbatore and Kulu Manali before the trek. According to Seshadri, adequate safety and medical facilities are available. This includes air evacuation for which a chopper will be hired for Rs. 1 lakh. The minimum age for a participant is eight years and they will be trained by experienced mountaineers. Separate lady instructors will lead female participants.
The total cost to the participant, including air-fare ex-Coimbatore is Rs. 33,500 and ex- Delhi is Rs. 19,500 by AC deluxe bus. NALS plans to start trekking programmes for corporates too, focusing on teamwork, communication and troubleshooting skills. Their camp, near Karamadai, is being set up for these programmes. For registrations and further details call Lt. Seshadri at 0422 2542800/2543800.
PHEROZE L. VINCENT